Data Flow Mapping Tool - Test product Sept 2018
Pro Annual
Description for Data Flow Mapping Tool - Annual
Pro Monthly
Description for Data Flow Mapping Tool -Monthly
Product Description
Organisations of all sizes that need to identify the personal data they process and bring their practices in line with the EU General Data Protection Regulation (GDPR).
The Data Flow Mapping Tool simplifies the process of creating data flow maps, which will help you meet the terms of the GDPR.
The tool makes it easy to create data flow maps that can be reviewed, revised and updated when needed. It also helps you get a thorough understanding of what personal data your organisation processes and why, where it is held and how it is transferred.
Gain full visibility over the flow of personal data through your organisation. As well as helping you identify those parts of your processes that may need additional measures to protect personal data, the Data Flow Mapping Tool will help you identify and eliminate any process inefficiencies.
Cloud-based application, licensed for up to five users and can be accessed via any compatible browser.
---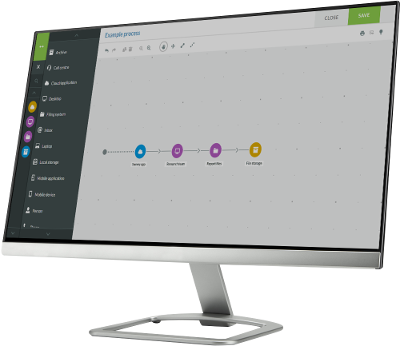 To comply with the GDPR, organisations that process the personal data of EU residents must understand what personal data they hold or process. To do so, creating data flow maps is vital.
The Data Flow Mapping Tool simplifies how you map data flows, giving you more time to spend on identifying and resolving data protection issues. Create consistent visual representations of the flow of personal data through all your business processes without having to resort to more time-consuming drawing methods, such as pen and paper or vector graphics.
The tool features a simple toolbar to create and edit maps, a user-friendly interface and a tutorial.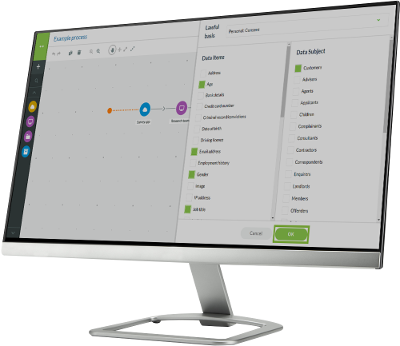 Use the personal data inventory to log details of the personal data items involved in a process and generate an inventory of personal data. Specify what the lawful basis for processing is, the types of personal data you are processing and the categories of data subjects.
Creating data flow maps should become a standard part of proposing and setting up any projects or processes that will involve personal data. Data flow maps created using the Data Flow Mapping Tool can be easily reviewed, edited and updated by multiple people as your organisation evolves.
Generate a version-controlled data flow report that compiles information from your data flow map in an easy-to-read format to share with stakeholders. Update the process map and details whenever changes are made to the process.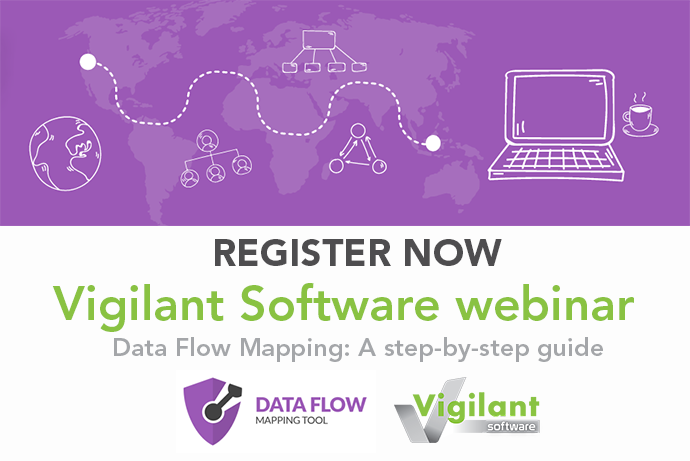 Technical Specifications
The Data Flow Mapping Tool is hosted on CyberComply, Vigilant Software's online cyber security and compliance platform.

All you need to access the Data Flow Mapping Tool is an Internet connection and a compatible browser: the latest version of Chrome, Edge, Firefox or Internet Explorer.

The software is available on a subscription basis. The annual licence for the Data Flow Mapping Tool covers five users.

The Data Flow Mapping Tool is supported by Microsoft Azure data centres, which have industry-leading security measures and policies.

The Data Flow Mapping Tool includes regular updates to content and functionality.
Payment Terms
A new invoice will be raised each year to renew the annual licence so you can continue to benefit from product updates and unlimited technical support.
Compliance Manager
The Data Flow Mapping Tool integrates with Compliance Manager, and is available to purchase as a combination package. The integration makes it easy for users to record what security controls have been applied to a process and whether a process is governed by specific regulatory, statutory or contractual requirements.
---
Customer Reviews