ISO 27001 Toolkit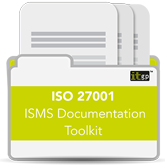 Product Description
*Please purchase the format appropriate for you. NB Office 2010 will NOT work with earlier versions of Microsoft Office.
Used by thousands – and continually modified, updated and improved over 20 years – the bestselling ISO 27001 Toolkit makes implementing the Standard quick and easy. Created by expert practitioners and proven to help organisations achieve ISO 27001 certification, it comprises a comprehensive set of documentation templates containing every ISO 27001-compliant policy, procedure, work instruction and record you need. The toolkit will save you months of work as you get your ISMS (information security management system) up to speed.
---
"The IT Governance toolkit which I found on the web looked, as it indeed was, a bargain to help create our document set and enhance our existing policies…"
– Howard Jones, Executive Director, PFI Knowledge Solutions
---
Look no further to get your ISO 27001-compliant ISMS implementation underway.
Continually modified, updated and improved over 20 years. · We're the pioneer of ISO 27001, having led the world's first implementation project.
Cuts the costs and effort involved in ISO 27001 implementation by more than 50%.
The most comprehensive toolkit on the market, featuring more than 140 templates plus handy project tools.
Directly aligned with the clauses and controls of ISO 27001.
The pre-formatted templates enable you to get compliant fast.
Suitable for all organisations, of every type and size.
Helps you pass your certification audit without any stress.
---
Why choose the ISO 27001 Toolkit?
It's the most comprehensive toolkit on the market, trusted by thousands of organisations around the world.
It's proven to have helped organisations achieve certification.
You can achieve ISO 27001 compliance quickly and easily.
Access to professional guidance so you can become your own expert, saving time and avoiding mistakes.
Embed the documentation into your organisation quickly and easily using the pre-formatted templates. · Meet local and global security laws, such as the GDPR (General Data Protection Regulation).
Reduce costs associated with information security.
Win new business and protect your reputation by assuring stakeholders you take information security seriously.
---
The toolkit includes the following critical documents:
Top-level documents
Project tools, including:

ISO 27001:2013 Gap Analysis Tool
ISO 27002:2013 Controls Gap Analysis Tool

Information security management system:

Section 5 – Leadership
Section 6 – Planning

Risk management:

Control A6 – Organisation of information security
Control A8 – Asset management
Control A9 – Access control
Control A10 – Cryptography
Control A11 – Physical and environmental security
Control A12 – Operations security
Control A13 – Communications security
Control A14 – System acquisition, development and maintenance
Control A15 – Supplier relationships
Control A16 – Information security incident management
Control A17 – Information security aspects of business continuity management
Control A18 – Compliance

Section 7 – Support
Section 8 – Operation
Section 10 – Improvement
Blank templates
View the full contents list here
Speed up your ISO 27001 documentation project. Buy the ISO 27001 Documentation Toolkit today.
Technical Specifications
This toolkit is available for immediate download. After purchasing, you will receive an email with a download link.
We provide a free 12-month update service*, ensuring that you get all recent updates with any improvements and changes that we make. Your feedback is vital to the development of our toolkits, as is the consultant and client work we do, so please get in touch and let us know if you feel there is room for improvement.
We provide an unlimited drafting support service, which entails help setting up, customising and using the templates, and help interpreting the document structure.
Drafting support does not extend to consultancy and implementation advice, as the toolkit is a project resource, not an out-of-the-box solution. Documentation toolkits, like a standard or regulation, are designed to be used by organisations of all types and sizes. Organisations may need to develop specific content relevant to their internal processes and activities.
This toolkit is compatible with Office 2016, 2013 and 2010. If you use one of these Office versions on a Mac, or are using an older version of Office, please contact us.
* Updates based on new editions of a standard or regulation are not included.
Customer Reviews