Upgrade to vsRisk™ Multi-user from vsRisk Standalone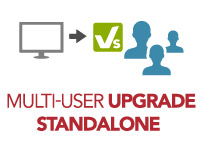 Product Description
Upgrade from vsRisk Standalone to vsRisk Multi-user.
vsRisk Multi-user enables the lead risk assessor to outsource the risk assessment to nine additional risk assessors, speeding up the process of conducting an enterprise-wide risk assessment while ensuring uniformity and consistency in the process and reports. The Multi-user version can also be installed on a remote database server, allowing global back-ups.
Includes Annual Support and Update Package
The Annual Support and Update Package is included in this offering. The main administrator will receive unlimited email and telephone support for 12 months. In addition, the package provides free software updates, introducing new features and functions, for 12 months from the date of purchase.
Read more about the features of vsRisk Multi-user >>
Exclusions
Unlimited software technical support is included in this contract. Any customers with software versions older than the last two versions of vsRisk will be required to purchase a brand new version if customers wish to migrate their data to a newer version of vsRisk. Please contact our support team to upgrade. Professional advice on constructing and carrying out a risk assessment is not included. Our consultancy team can provide such advice on a separate basis.
Technical Specifications
Supports Windows Vista and above
Supports Windows 8 and Windows 10
Windows Excel for reporting and imports
Supports MS SQL2008 R2 SP2 and above.