vsRisk Standalone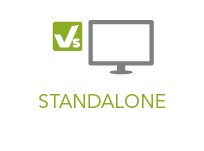 Product Description
Organisations of all sizes that need to conduct an information security risk assessment. These are usually conducted by IT managers, IT risk managers, security analysts, CIO/CISOs or heads/directors of IT.
Fully aligned with ISO 27001, vsRisk helps you deliver fast, accurate and hassle-free risk assessments.
It eliminates the need to use spreadsheets, which are prone to user input errors and can be difficult to set up and maintain. With vsRisk, you can produce consistent, robust and reliable risk assessments year-on-year.
Save 80% of your time and significantly cut the consultancy costs that are typically associated with tackling a risk assessment.
---
vsRisk is also available to purchase as a multi-user version. Please follow this link for more information.
Please follow this link for more information on purchasing additional ISMSs.
---
Fully aligned with ISO 27001:2013, vsRisk streamlines the information risk assessment process and helps you produce robust risk assessments. The software includes control sets from:
ISO 27001:2005
ISO 27001: 2013
ISO 27032:2012
NIST 800-53
CSA CCM v3
PCI DSS v3
Cyber Essentials
With more than ten years of development behind its success, vsRisk is a database-driven solution for conducting an asset-based or scenario-based information security risk assessment. It is proven to simplify and speed up the risk assessment process by reducing its complexity and cutting associated costs.
The vsRisk database includes a sample risk assessment created by ISO 27001 experts Alan Calder and Steve Watkins, containing sample risks, assets and controls. Using this as a template for your own project can further reduce the time and effort expended on conducting a risk assessment.
As part of the fast setup process within vsRisk, users can set their risk acceptance criteria and adjust the scales used to measure the likelihood and impact of individual risks. Once they have configured their settings, users will be guided through the risk assessment process by the risk assessment wizard. They will identify risks by selecting assets, threats and vulnerabilities, and record how they will respond to each risk, applying controls as necessary to reduce the risk to an acceptable level.
vsRisk can generate six audit-ready reports, including the Statement of Applicability and a risk treatment plan.
An interactive dashboard provides a quick summary of the risk assessment and the progress made.
For more information, please view our online demonstration video of vsRisk in action >>
---
A new version of vsRisk was launched in April 2017. You can read about the changes introduced with the latest version in this blog post.
Conditions
vsRisk software is dynamic and updated frequently. It is important that customers keep their software up to date by installing the latest version whenever it is released.
We recommend that customers purchase the 12-month Support and Update Package to ensure continued support and optimal software performance.
Any customer requiring support for legacy versions of vsRisk will be required to pay a premium to upgrade to the latest version.
Professional advice on constructing and carrying out a risk assessment is not included.
Technical Specifications
Integrated security supports single sign-on
Features a back-up and restore functionality
Includes a detailed user manual to take you through the process step by step
Includes a conversion tool for mapping existing controls based on ISO 27001:2005 to ISO 27001:2013
Supports Windows Vista and above
Supports Windows 8 and Windows 10
Reporting and import functionality compatible with Microsoft Excel
Customer Reviews
Showing comments 1-8 of 8