Get compliant and stay compliant with ease
Sit back
CyberComply does all the heavy lifting – built-in tools, prompts and databases mean you can get started without any expert knowledge.
Meet your compliance objectives fast with six fully integrated compliance modules and a global asset register.
Intuitive, easy-to-use tools help you perform risk assessments, conduct DPIAs and map data flows like an expert.
Quickly identify, manage and treat cyber security risks according to best practice.
Implement GDPR-compliant processes without having to start from scratch.
Generate powerful reports to demonstrate evidence of measures taken to comply with key laws and frameworks.
Interactive dashboard that offers a real-time overview of your project that you can personalise to see what's important to you.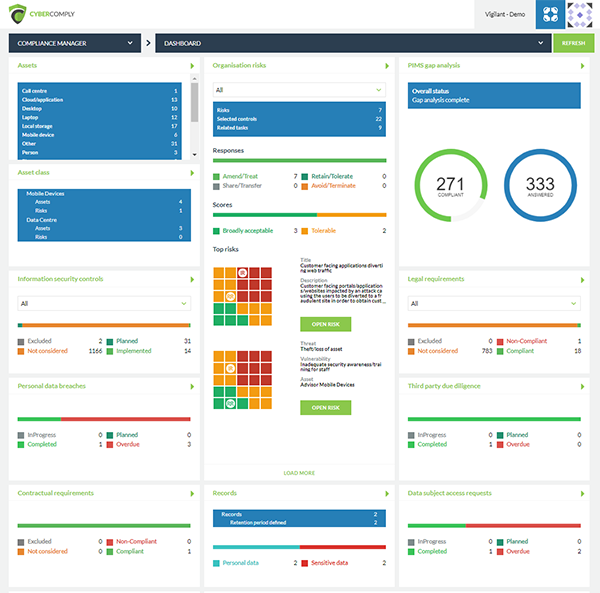 Stay compliant
Identify GDPR compliance gaps and prioritise resources with GDPR Manager.
Manage your compliance activities in one central place to improve control and compliance.
Keep track of data security compliance requirements of critical UK laws and information security frameworks.
Manage DSARs (data subject access requests), DPIAs and data breaches lawfully and according to the GDPR's requirements.
View and edit supporting compliance documentation as per your controls, so you have a seamless approach to governance.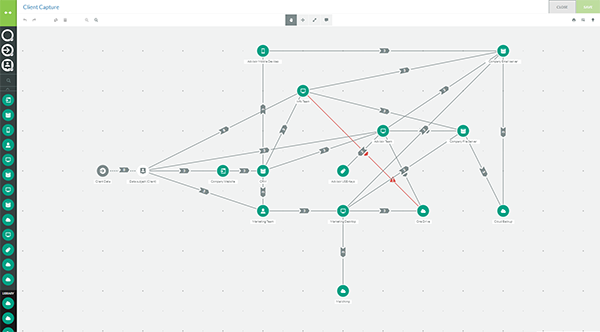 Take control
Quickly identify and treat data security risks before they become critical concerns.
Meet legal obligations and apply control sets from the EU GDPR, the UK GDPR and other UK laws, the CCPA, the CPRA, ISO 27002:2022, the Cyber Essentials scheme, NIST SP 500-83, ISO 27032, CSA CCM v4, PCI DSS v4.0, ISO 27017, ISO 27018, ISO 27701, ISO 22301, the SOC 2 TSC, the NHS DSP Toolkit - Category 3 and the NIS CAF.
Map data flows in minutes while flagging up key data processing risks.
Conduct a DPIA like an expert, saving time, money and resources.
Reduce errors and improve completeness of risk management processes.
Follow step-by-step processes and built-in guidance to ensure compliance.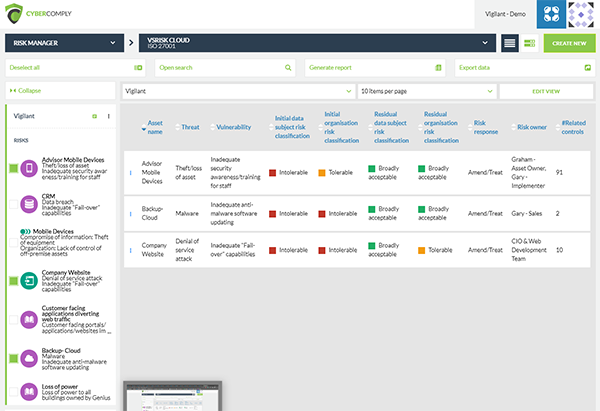 Talk to one of our software experts to discuss your cyber security and data privacy challenges

"Using vsRisk has been a business enabler whereby we have been able to move away from clunky and ineffective Excel spreadsheets to manage our risks. Our risks are now clearly detailed in a graphical layout where we are able to drill down into our risks and produce meaningful risk assessments which can be presented to the board. The on-line assistance has been first class and any help that's needed, be it a how to do something on the platform or assistance with account details and billing, the assistance is prompt, effective and faultless. I'd highly recommend Cyber Comply to anyone looking for a value for money risk management and compliance platform."
- Stephen Hurren

"The tools are well designed to provide simple yet detailed visuals of complex processes, our CyberComply reports are useful across several aspects of the organization and used to communicate and manage risk from the CEO down to end-users."
- Jennifer Morehead

"We needed a way to expedite and simplify our cyber risk assessment process and CyberComply became a clear choice after testing other solutions in the market. Customer support for the product is fantastic, we were able to get up and running with the product incredibly quickly. CyberComply has become an integral tool in our organization."
- Josh Pribanic

"User-friendly tool which made risk assessments easy and helped us achieve ISO 27001 certification. Responsive and knowledgeable support team. Absolutely worth your time and money"
- Natalia Li Sundheim