Why use the DPIA Tool?
Spreadsheets are cumbersome and prone to errors. And if you need to collaborate with multiple stakeholders, the process gets more complicated. Vigilant Software's DPIA Tool makes your DPIA a simple, repeatable process.
The DPIA Tool helps you determine whether you need to conduct a DPIA under the GDPR (General Data Protection Regulation). It can also conduct the DPIA if required, using a method that is consistent across all processing activities, ensures all necessary information is captured, and is easy to adjust if the processing activity changes.
DPIAs – protect your customers and your organisation
Designed for risk and security, data and compliance, and IT and information security professionals working in established SMEs and larger organisations for whom this question is critical: Are your processes putting your data subjects' rights and freedoms at risk?
The DPIA Tool simplifies and accelerates the whole DPIA process, and helps you meet this key GDPR requirement. Use the tool to:
Quickly determine whether you need to conduct a DPIA;
Conduct consistent, comprehensive DPIAs;
Identify risks and determine the likelihood of their occurrence and impact;
Easily review and update DPIAs when changes in processing activities occur; and
Easily share information with stakeholders and your supervisory authority.
The built-in templates ensure your data protection process is aligned with the GDPR. You can save time, reduce errors and easily demonstrate how you comply with your data protection obligations.
Make sure your organisation is GDPR compliant
All UK organisations need to be GDPR compliant, and most will need to undertake a DPIA, or at least answer the qualifying questions to find out if a DPIA is required. And it's much easier using the DPIA Tool than a spreadsheet!
Remember that DPIAs are important tools for accountability. They not only help controllers comply with the requirements of the GDPR but also demonstrate that appropriate measures have been taken to ensure that compliance.
We offer single-user and multi-user access via monthly and annual subscriptions. Being hosted online also means that other invited users can access the tool with a 'read only' role and ensures that correct procedures have been followed.
Price guarantee: If you find a tool that does exactly the same, with the same outcomes at the same incredible price or lower, we will refund your first subscription*
*full details on the shopping page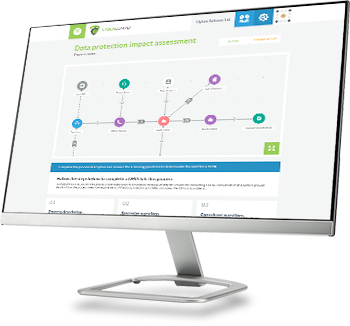 See pricing

Standardised procedure
Our DPIA tool has all best practices built in. You can conduct a comprehensive DPIA following a consistent approach across all processing activities.
The six steps ensure all necessary information is captured and track your progress.
Identify risks and work out how likely they are to occur and how bad they might be if they do.

Easy to share
Share information with key stakeholders and your supervisory authority.
Record the DPIA has been reviewed and authorised to go ahead.
Export a .docx report for each DPIA.

Review, update and maintain
Easily review and update a DPIA whenever there is a change in the processing activity (periodically or whenever significant changes are made to the process).

Integrates with other CyberComply products
The DPIA Tool integrates with Compliance Manager and the Data Flow Mapping Tool, giving you full visibility of your compliance progress.
Jeffrey S. Cochran
Information Security Manager, Thompsons Online Benefits
By the way, this vsRisk package rocks!
I do very much like how it is laid out and operates. This is just what I needed.
Nicholas King
11/6/2019
Robust have never been so high-profile. The introduction of the EU GDPR (General Data Protection Regulation) in May 2018 put personal data protection firmly in the public consciousness. Cybercrime continues to grab headlines, with attacks causing massive disruption for airlines, hospitals and entire ... read more