Why use GDPR Manager?
GDPR Manager is a combination of four modules that relate to GDPR and BS 10012 compliance. The tool provides customers with the means to assess their data protection practices and manage some of the more arduous elements of GDPR and BS 10012 compliance, such as recording and reporting data breaches, handling DSARs (data subject access requests) and determining whether third parties have suitable measures in place to protect personal data. .
Specific GDPR articles with which the tool enables compliance include DSARs in Article 15, breach reporting in Article 33 and supply chain processors in Article 28.
Designed for DPOs (data protection officers) and DPMs (data protection managers) working in all organisations that want a platform to streamline their core GDPR compliance activities and reduce costs while improving repeatability, robustness, reliability and audit trails.

Gap Analysis module
Provides your GDPR compliance status at a glance, and helps ensure ongoing compliance. Assess your level of compliance with BS 10012:2017 – the personal information management system standard aligned with the GDPR – and identify the actions you need to take to protect personal data in compliance with the Regulation.

DSAR module
Provides a means of logging any DSARs received and recording how those requests were processed. The right of access is enshrined in Article 15 of the GDPR. Organisations must respond to a DSAR within one month of receiving it. There are circumstances where this period may be extended by two months (if the request is complex, or if the individual made multiple requests).

Breach Report module
Allows you to log any personal data breaches or cyber security incidents that occur. Under Article 33 of the GDPR, organisations must report certain types of data breaches to the local supervisory authority (the ICO (Information Commissioner's Office) in the UK) within 72 hours of becoming aware of the breach.

Third Party Management module
Provides a means to record information on the data protection practices of the third parties that process or store personal data on your behalf. Recording this information is a key part of the due diligence activities required by Article 28 of the GDPR.
Manage your GDPR activities with one tool - and achieve fast, efficient compliance
Now that the GDPR has been in place for some time, the challenge for organisations is to ensure ongoing, long-term compliance.
GDPR Manager offers a single, Cloud-based portal for managing four of the most important aspects of the GDPR. The tool will help organisations achieve and demonstrate compliance cost-effectively, quickly and easily.
With GDPR Manager, work is saved in a central location, making maintaining and updating documentation simple. The more of your GDPR compliance activities you can do on a single platform, the better – in terms of consistency of approach, time spent on user management, cost-effectiveness, etc.
We offer single-user and multi-user access via monthly and annual subscriptions. Being hosted online also means that other invited users can access the tool with a 'read only' role and ensures that correct procedures have been followed.
Price guarantee: If you find a tool that does exactly the same, with the same outcomes at the same incredible price or lower, we will refund your first subscription*
*full details on the shopping page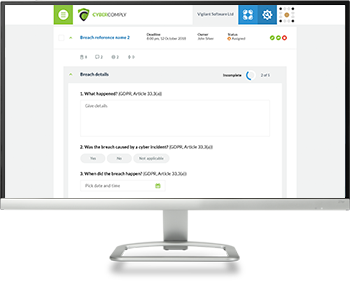 See pricing

Summary
The more of your GDPR compliance activities you can do on the single platform, the better in terms of consistency of approach, time spent on user management, cost efficiencies.

One platform/one tool > multiple tasks
Cloud-based GDPR Manager platform to enable organisations to manage a range of GDPR elements such as recording and reporting data breaches, handling subject access requests, and monitoring third party compliance through a single platform.

Aligned with GDPR
GDPR Manager comprises four modules, each of which supports a different core aspect of GDPR compliance: Breach reporting, DSAR logging, Gap analysis and Third party management. Respond to subject access requests, and identify your compliance gaps, and those of third parties, with our GDPR Management Tool.

Easy to share
Allows multiple users within an organisation to log on from any location, updating information such as subject access requests (DSARs), breach reports, gap analysis questionnaires and third-party controls.

Simplifies and speeds up
This speeds up internal compliance processes, creates a clear and automated audit trail for many aspects of GDPR compliance, and ultimately helps organisations to achieve and maintain robust levels of data protection.

Integrates with other CyberComply products
The GDPR Manager integrates with Compliance Manager giving you full visibility of your compliance progress.
Jeffrey S. Cochran
Information Security Manager, Thompsons Online Benefits
By the way, this vsRisk package rocks!
I do very much like how it is laid out and operates. This is just what I needed.
Nicholas King
11/6/2019
Robust information compliance has never been so high-profile. The introduction of the EU GDPR (General Data Protection Regulation) in May 2018 put personal data protection firmly in the public consciousness. Cybercrime continues to grab headlines, with attacks causing massive disruption for airlinesRobust have never been so high-profile. The introduction of the EU GDPR (General Data Protection Regulation) in May 2018 put personal data protection firmly in the public consciousness. Cybercrime continues to grab headlines, with attacks causing massive disruption for airlines, hospitals and entire ... read more