Why use Data Flow Mapping Tool?
Gain full visibility over the flow of personal data through your organisation
The Data Flow Mapping Tool is designed to simplify the process of creating data flow maps, which will help you meet the terms of the General Data Protection Regulation (GDPR).
Organisations should be looking to create data flow maps of all their existing processes in advance of the compliance deadline for the GDPR (25 May 2018).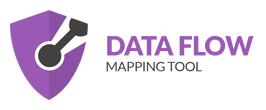 Easy-to-use
Using the tool will simplify how you map data flows, giving you more time to spend on identifying and resolving data protection issues.
It features a simple toolbar to create and edit maps, a user-friendly interface and a helpful tutorial to guide you round the tool.
Geared for repeatability
Data flow maps created with the tool can be easily reviewed, edited and updated by multiple people as your organisation evolves.
Creating data flow maps should become a standard part of proposing and setting up any projects or processes that will involve personal data.
Logs personal data item
Log details of the personal data items involved in a process and generate an inventory of personal data.
You can specify what the lawful basis for processing is, the types of personal data you are processing and the categories of data subjects.
Generates data flow reports
Generate a version-controlled data flow report that compiles information from your data flow map in an easy-to-read format to share with stakeholders.
You can update the process map and details whenever changes are made to the process.
Embeds data protection by design
Data flow mapping is essential for organisations seeking to embed data protection by design and by default into their processes.
Doing so means that processes are geared towards data protection from the beginning.
Gives optional access to security controls
The Data Flow Mapping Tool integrates with Compliance Manager, so you can record what security controls have been applied to a process.
You can also use this integration to keep track of whether a process is governed by specific regulatory, statutory or contractual requirements.
Data Flow Mapping Tool teaser
CREATE DATA FLOW MAPS THAT ARE EASY TO REVIEW, REVISE AND UPDATE
Jeffrey S. Cochran
Information Security Manager, Thompsons Online Benefits
By the way, this vsRisk package rocks!
I do very much like how it is laid out and operates. This is just what I needed.
Gary Baxter
Vigilant Sales and Support Executive