The importance of managing cyber risks
Cyber threats are constantly changing, and cyber attacks are increasing in scale and severity.
Regular information security risk assessments are an essential part of enterprise risk management.
They ensure your security controls are appropriate, focused and efficient.
This helps you avoid cyber security incidents and data breaches.
A risk-based approach is mandated by many laws, standards and frameworks – such as the GDPR (General Data Protection Regulation) and NIS (Network and Information Systems) Regulations 2018.
The cyber risk management process
A cybersecurity risk assessment identifies, analyses and evaluates the cyber threats to your information and operating systems, helping you implement an appropriate level of protection.
Cyber risk management methodologies vary, but typically include the following:
Identify the risks you face.
Analyse these risks to determine how they might occur.
Evaluate the effects of each risk and where it falls within your risk acceptance criteria.
Prioritise the risks so you can address the most important ones first.
Decide how to address each risk, whether by treating it, tolerating it, terminating it or transferring it, in line with your risk profile.
Monitor your risks and security controls to ensure they remain acceptable.
The risk management tool vsRisk simplifies this process, eliminates errors and ensures consistent, valid and comparable results every time.
vsRisk information security risk assessment tool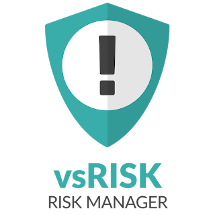 Generate audit-ready reports, including an SoA (Statement of Applicability) and a risk treatment plan.
Streamline the risk identification and risk analysis process with predefined vulnerabilities and threats.
Select from built-in controls drawn from leading standards, frameworks and legislation, including ISO 27001, ISO 27017, ISO 27018, ISO 27032, ISO 22301, NIST, the CSA CCM (Cloud Security Alliance Cloud Controls Matrix), the PCI DSS (Payment Card Industry Data Security Standard), SOC (System and Organization Controls) 2, the CCPA (California Consumer Privacy Act), the CPRA (California Privacy Rights Act) and Cyber Essentials.
Track and manage risks using the simple dashboard.
Use the customisable settings to configure your risk acceptance criteria, risk likelihood and risk impact values.
vsRisk is hosted on our CyberComply platform, and fully integrable with the other tools: Compliance Manager, GDPR Manager, the Data Flow Mapping Tool and the DPIA Tool.