About us
Vigilant Software aims to make compliance easy
We develop industry-leading tools for intelligent, simplified compliance, including ISO27001-risk management and EU GDPR.
Drawing on years of experience in developing and deploying risk management tools and services, our product range provides businesses with regulatory software tools that save you both time and money.
Our hero product vsRisk, is the industry-leading ISO27001-compliant risk assessment tool, has simplified and automated the information security risk assessment process for many organisations across the globe, both large and small.
See our portfolio below and the regulations they support:
Download our eBook today!
If you would like to find out more about our products, who our customers are and how we can help simplify your projects, download our latest e-book today: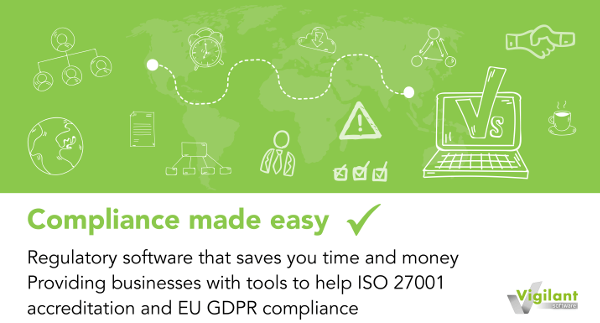 Contact us today to find out more
Vigilant Software is part of the GRC International Group.
Group Global Headquarters:
Unit 3, Clive Court
Bartholomew's Walk
Cambridgeshire Business Park
Ely, CB7 4EA
United Kingdom