How vsRisk can help you
What does vsRisk do?
vsRisk helps you deliver fast and hassle-free risk assessments, eliminating the need to use inconsistent spreadsheets. With vsRisk, you can produce consistent, robust and reliable risk assessments year after year.
Providing a robust ISO 27001-compliant risk assessment methodology, and dependably, vsRisk delivers each of the five steps to a successful risk assessment.
Who is vsRisk for?
vsRisk is suitable for organisations of all sizes that need to conduct an information security risk assessment. These are most often carried out by IT managers, IT risk managers, security analysts, CIO/CISOs or heads/directors of IT.
How can it help you with your information security risk assessment?
vsRisk is the tool that your consultant probably won't tell you about – it's so straightforward and so quick to use that it can save you a significant proportion of the budget you might otherwise spend on consultancy advice when conducting a risk assessment.
With vsRisk, there's no need to spend any time on developing your own risk assessment methodology or on costly trial and error – you can immediately get to work on the actual risk assessment, which means you get actionable results much sooner.
VsRisk free resources
Take a look at our free resources to show you how to use vsRisk and its core features.
Purchase vsRisk today.
Find out which vsRisk product is best for your organisation by viewing each product's features here.
vsRisk Cloud is hosted on CyberComply, Vigilant Software's online cyber security and compliance platform.
All you need to access vsRisk Cloud is an Internet connection and a compatible browser – the latest version of Chrome, Edge, Firefox or Internet Explorer.
The software is available on a subscription basis. The annual licence for vsRisk Cloud covers five users.
vsRisk Cloud is supported by Microsoft Azure data centres, which have industry-leading security measures and policies.
vsRisk Cloud includes regular updates to content and functionality.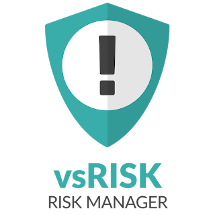 vsRisk Cloud
Price: £1,400.00
MORE INFO