vsRisk™ Multi-user – Additional Multi-users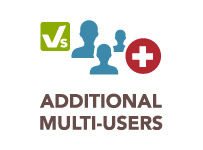 Product Description
This add-on product to vsRisk Multi-user enables five additional users to be added to the existing multiple user product, with one licence.
This product enables an additional five users, in addition to the existing ten risk assessors (including one lead assessor/administrator) to conduct a comprehensive risk assessment across the organisation at the same time.
Support and updates
This individual product is only applicable to existing customers of vsRisk Multi-user. Customers with other versions of vsRisk will need to upgrade to vsRisk Multi-user first in order to purchase any additional clients over the ten risk assessors included in vsRisk Multi-user.
Technical Specifications
Supports Windows Vista and above
Supports Windows 8.1
Microsoft Excel for reporting and imports
Supports MS SQL2008 R2 SP2 and above
vsRisk Multi-user is available to perform risk assessments on one ISMS
Additional user access can be purchased in bundles of five
For information on using vsRisk on multiple ISMSs, please contact us.
Conditions:
vsRisk software is dynamic and updated frequently. It is important that customers keep their software up-to-date by installing the latest version whenever it is released. Any customer with software versions older than the last two versions of vsRisk will be required to pay a premium in order to upgrade to the latest version, if the software has become outdated. Please contact our customer support team to upgrade.
Professional advice on constructing and carrying out a risk assessment is not included. Our consultancy team can provide such advice on a separate basis.
Customer Reviews