vsRisk™ Multi-user Support and Update Package (Annual Licence)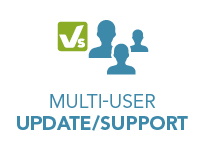 Product Description
Receive 12 months of software updates and technical support for vsRisk.
A new invoice will be raised each year to renew the annual licence so you can continue to benefit from product updates and technical support.
By purchasing this Support and Update contract, you avoid having to pay for individual support tickets, which each cost £70, plus VAT.
Exclusions
The following are not included: upgrades from vsRisk Standalone to vsRisk Multi-user, or upgrades to a new major version (e.g. from version 2.3 to 3.0).
Professional advice on constructing and carrying out a risk assessment is not included. Our consultancy team can provide such advice on a separate basis.
Customers with historical versions up to 2.0 will need to purchase the latest version of vsRisk Standalone or vsRisk Multi-user if they would like to migrate their data from their current version of vsRisk.
vsRisk Network-enabled has now been discontinued, but existing support and update customers with a valid annual licence will still receive full support and software updates for this version.
For sales-related queries or to update your software:
Please contact our service centre.
For technical support queries:
Please contact our support team..
Annual licence fee and direct debit option
A direct debit facility is available to customers with UK bank accounts. Please contact us for a direct debit form >>
Technical Specifications
Supports Windows Vista and above
Microsoft Excel for reporting and imports
Multi-user requires MS SQL2008 R2 SP2 or above
Customer Reviews